Tea time is a regular afternoon happening in the UK. Of course, tea at breakfast is quite ordinary for many people, but I do prefer coffee in the morning hours. A dark cup of Columbian roast is sitting right next to me now.
Lately, I've been drinking a cup or two of tea in the late afternoon right around the time I venture to the kitchen looking for a snack. A lot of the time the tea is the snack, so it's probably a good thing to substitute an herbal tea for some kind of carbohydrate-laden quick snack. As the all-knowing "they" say, moderation is the key.
In the kitchen there is a drawer with all kinds of tea and other powdered drinks like cappuccino, cocoas, and coffees. I rummaged through there the other day and found an old tattered box that I was going to toss in the garbage. I checked the contents and found some odor to the tea bags, so I made a cup. I was very pleasantly surprised! I don't know why the tea wasn't tasting stale because I know that box had been hiding in the back of the drawer for a long time – years!
I'm not sure what the princess riding the dragon is supposed to represent, but she is holding a cup of tea. Perhaps she is calming the beast?
Previously, I hadn't tried too many herbal teas and remember not liking chamomile tea – but that was a long time ago. I'm not sure why I even tried this Tension Tamer tea, but I'm glad I did. It renewed the hunt for teas to enjoy! Check out this ingredient list –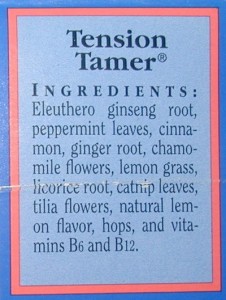 eleuthero ginseng root
peppermint leaves
cinnamon
ginger root
chamomile flowers
lemon grass
licorice root
catnip leaves
tilia flowers
natural lemon flavor
hops
vitamins B6 and B12 (20% Daily Value in one teabag)
I know I enjoyed the licorice root in this tea, but were the other ingredients really "there" after being in the box for so long? What about the ginseng and other stuff? I'll have to find this tea in the market and try it again. Until then I'll have to find out what other teas might be lurking in that kitchen drawer.

Related articles by Zemanta