The Winter of 2016-2017 has been very mild and dry in Northeast USA.
In Central Pennsylvania we've had the warmest February on record. We've also had the least amount of snow, like ever. Check the weather history for Harrisburg, PA and you'll see record highs of 72 and 75 degrees for Feb 23 and 24. The high temperatures for the whole month didn't drop below 30 degrees.
March started out much warmer than average, too. The observable effects of all this warmth, in addition to huge flocks of geese and swans flying north, is that bulbs pushed through the earth much sooner than expected. A few trees have popped out their leaves and lots of rose and bramble canes have new growth.
Heard my first Spring robin singing yesterday. It was funny that the puppy had to bark back at it because she never heard one before!
In the garden we have chives, garlic and some flower bulbs that are quite visible. Now that the weather has taken a U-turn back into winter I'm a little anxious about the garlic and onions and flowers. Will they make it ok?
The perennial chives seem to do well every year. Their greenery can always be counted on to appear very early in the year. So we have at least a couple of meals with cut chives on the potatoes, eggs or salad. It doesn't seem to matter a bit to these small delicious Allium schoenoprasum if the late winter or early spring is very cold or snowy.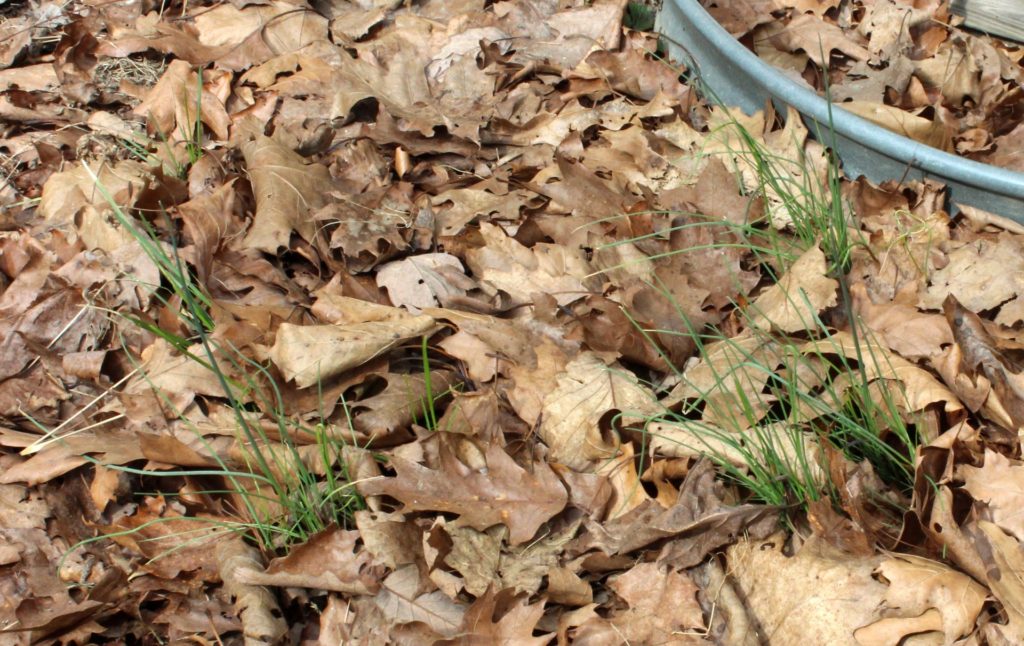 Garlic bulbs were split apart and the cloves planted (Oct.) only a couple of months after being harvested in the summer (July).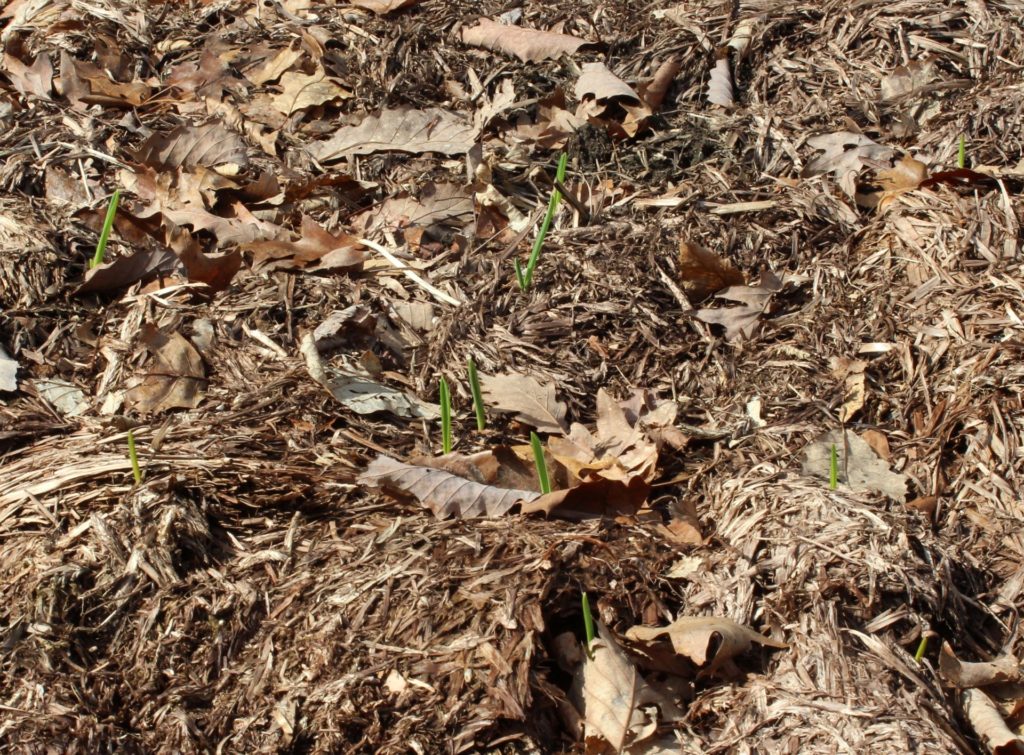 Each year we try to grow something new in the garden. This year elephant garlic looks like it may be a new one indeed. The size of the sprouts are admirable! No mistaking where the elephant garlic was planted among the other hardneck cloves.
To try and protect the bulbs from being lost to some of the coldest and snowiest weather we've had all season, a sheet or thin material was carefully draped over the sprouts. This is a regular thing we do to protect lettuces from extremely cold temperatures, so since the teens are predicted for a few coming nights, I thought the bulbs might benefit.
The thing I don't know is, Will snow on top of the sheet be too heavy? This morning there's already 3-4 inches of a fluffy but compacting wet snow.
Time will tell if my beauties will make it. Fingers crossed. Stay tuned for an update once the winter weather breaks for good.