A rabbit from the forest told me the other day that it's time to pay attention to him. He left his mark on the sprouting bulbs that are planted closest to the woods. My answer to the offending critter was hot peppers!
I had walked around the yards and garden last week and took mental notes of the areas that needed some tidying after this past long winter. You always get a better idea of the job ahead when you can see the areas close up. Looking out from a window won't tell you if plants are being nibbled, Mr. McGregor!
Fall-planted saffron crocus bulbs had sprouted and that was somebody's dinner. One day I saw about half of the sprouted bulbs were nibbled, but I forgot to sprinkle on the hot peppers. The next day I saw the rest of the bulbs' leaves were nibbled and blamed myself for forgetting about it. Right then, as I should have done the previous day, I marched inside to grab the hot peppers. When I got back outside to the scene of the crime I liberally shook hot pepper flakes all around the bulbs and all over the ground a few feet all around the bulbs.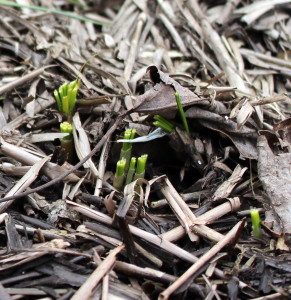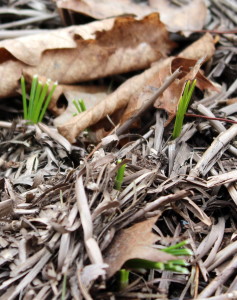 So far the leaves of the bulbs do not appear to have been eaten any more. Maybe the hot pepper flakes did work to chase away Peter Rabbit and his kind. I'm crossing my fingers that the saffron bulbs make it.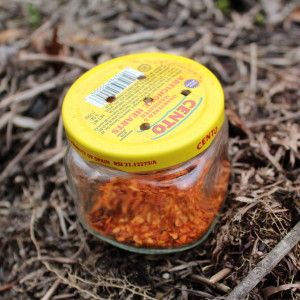 Using hot pepper flakes as a garden pest deterrent is easy. We like to grow hot peppers, like cayenne, jalapeno, or tabasco, and usually have plenty left over. The peppers are hung up to dry and stored in canning jars until needed. We use a blender to chop up the dried peppers into flakes, or I should say flakes and powder as some of the peppers get ground up into a fine powder.
Just pour the powder and flakes into a dry, empty jar. I used a small glass jar that once held artichokes, but any hand-sized jar is fine. Hammer a few holes through the metal lid and you've got a container for sprinkling hot peppers around the gardens.