We had the best corn chip dip ever in this little hole in the wall restaurant. It was years ago but I still remember how everyone at the table raved about it!
Ever since I could never find an equal to the taste of that green salsa dip. Until now, that is.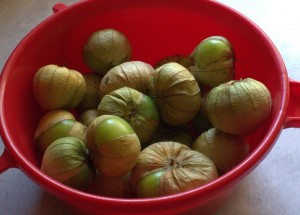 This year tomatillos were a success in the garden, so it was really satisfying to have my own fruit to make a batch of green salsa for the first time.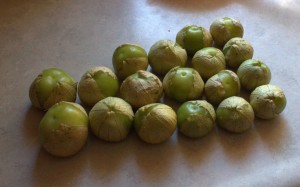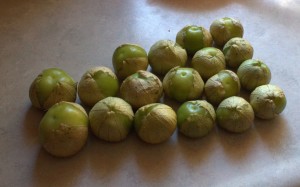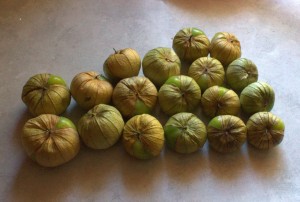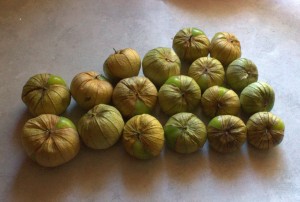 The year before last wasn't a success as only one plant came to maturity in the garden. Without a second plant to cross-fertilize its flowers the fruit was barely bigger than a pea.
The Salsa Verde recipe came from a local fruit and vegetable market where they offered tomatillos for the first time. The story goes that a new Latino employee introduced them to growing the small tomato relative. As a way to get people interested in trying the newest fruit at the market they shared the following recipe.
Green Salsa Verde Recipe
1 pound tomatillos
3 hot peppers, seeded, cut in half
1/2 onion, quartered
1/4 cup fresh cilantro leaves, chopped
1/4 tsp. ground cumin
1/2 tsp. sea salt

First, remove the tomatillo husks by soaking them in cold water. A tacky, yet slippery, substance coats the outside of the fruit and that plus the husk comes off in cold water. About 8-12 tomatillos will weigh out to a pound, depending on their size.
The original recipe specified to use 3 jalapeño peppers. I used 2 medium-sized Tiburon peppers, which is like a big jalapeño that's shaped more like a frying pepper but just as hot with dark green skin.

Second, place the husked tomatillos whole, the halved peppers and the quartered half onion in a pot and just cover with water. Bring to a boil on the stove with high heat and boil for 5 minutes.
The goal here is to tenderize the vegetables a bit and not cook them through or make them soft. We're going for al dente. The onions should break apart but not become soft.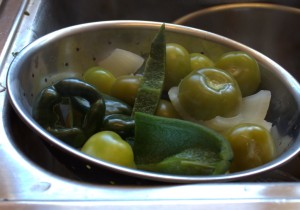 Then, remove from heat and drain the cooking water.
Transfer the boiled vegetables to a blender.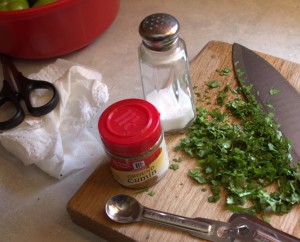 Add the cilantro herb and spices and blend until smooth.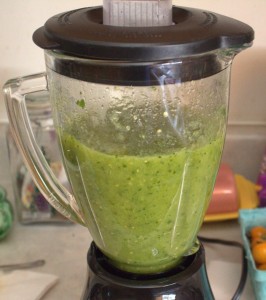 Taste!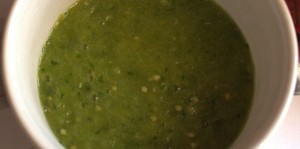 Keep in the refrigerator for up to a week, if it can last that long.

Recipe makes 2 cups so there is enough to share.