The hot July sun was upon the garlic and drying up the lower leaves to the point we thought it ready to harvest. Last week – in between rain storms – the garlic was harvested. It's now drying in the shade of the garage.
Garlic bulbs were dug using my trusty twisty, as I call the garden weasel. You know, the tool with four long prongs and a long handle for cultivating the ground? Its actual name is Garden Weasel Garden Claw
. It's a great little cultivator that's very efficient in breaking through untilled ground, and as I found out, it's great for harvesting garlic, too.
The claw could be centered right over a garlic bulb and twisted slightly to help bring the bulb out of the ground without breaking off the leaves from the bulb.
Once the bulbs were dug up excess soil was rubbed off and each bulb laid out on newspaper until the harvesting was complete.
Last fall we planted a variety pack of 6 kinds of garlic and we needed a way to keep each variety separate. A piece of newspaper was marked with the name of one variety and laid out on the driveway. Each variety was dug at one time to help keep them separated.
I was glad to have kept photos as a record of which variety was planted
in what rows in the garden. The sharpie "permanent" pen that I used to mark the row identifiers had mostly disappeared over a year's time, while the photos definitely showed the order in which we planted these garlic varieties:
Silverskin
Korean Red
St. Helen's Red
Dujanskij
Purple Glazer
Chesnok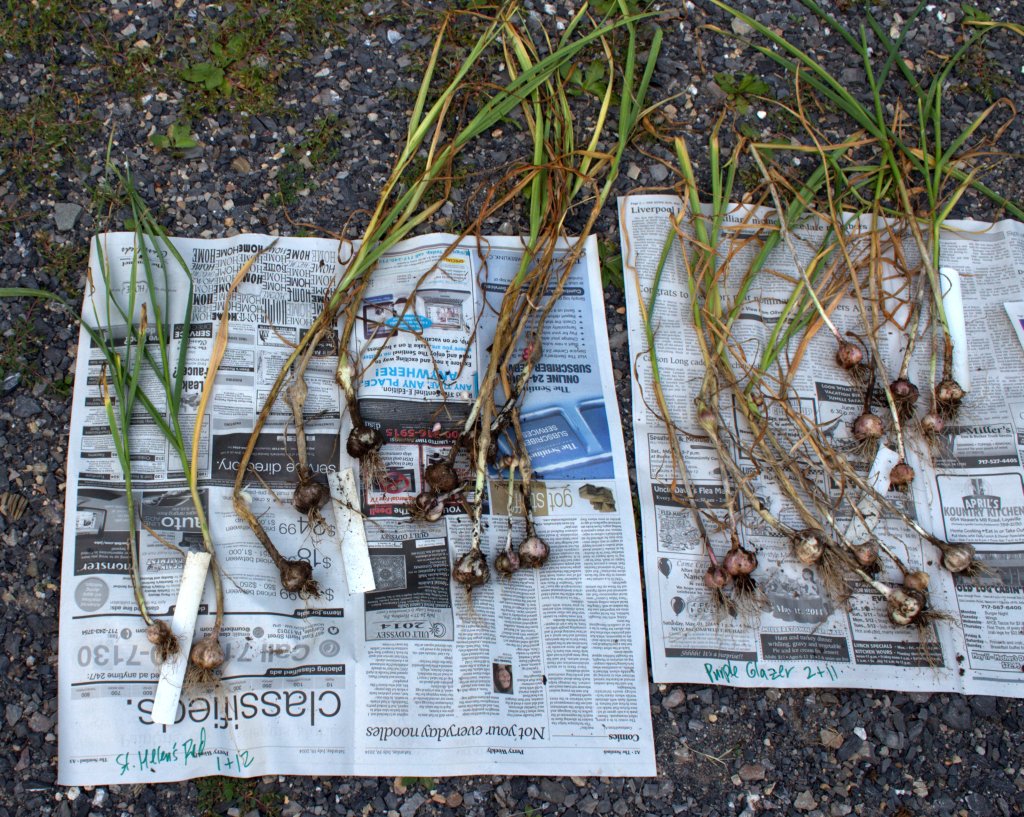 I had been watching the weather for a couple of weeks as the garlic was drying up from the bottom. We've had rain and thunder rumble through here every few days so I was watching for a few days where the sun had come out enough to help dry out the garden area with the garlic. Rain was threatening again so the garlic bulbs were dug, on 22 July 2014, before letting them go too long before harvesting them.
Of course we'd like the biggest garlic bulbs possible, but if garlic is harvested too late the outer wrappers on the bulb will disintegrate in the soil. If this happens, the garlic cloves lose their protective coating and dry out before you can use it all.