German chamomile plants that were grown from seed last year have survived the mild winter. Last year around the middle of May chamomile seeds were sown directly outdoors. The very small seeds were sprinkled on the soil and tamped down. Other chamomile seeds that were planted in pots indoors didn't survive.
The seeds of chamomile, Chamomile boldegold also known as Matricaria recutita and Matricaria chamomilla, are so small that thousands of them were held inside a 1 x 2 inch plastic zip-bag that was itself inside of a labeled seed packet. Surely, the plastic bag was necessary to keep the tiny seeds from falling out of the standard seed packet or paper envelope.

(Click photo to see a larger image.)
By the way we were totally happy with the seeds we've purchase from John Scheepers Kitchen Garden Seeds.
The instructions indicated that germination is aided by freezing conditions, which may explain why only two plants grew from the pinches of seeds that were sprinkled in late Spring. Flowers that were allowed to drop on the ground last year should contribute to a larger crop this year. If you're going to try to sow chamomile seeds indoors, put the seeds in the freezer overnight for more germination success.
The bright green foliage is bipinnate, where the leaflets themselves have leaflets. The segments that make up the leaflets are very narrow. Leaf stems of chamomile are round, but hollow. Our mild weather probably had something to do with the chamomile plants surviving the winter. Most sources claim this plant to be an annual, but under the right conditions chamomile is a perennial.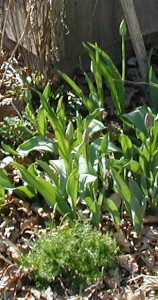 Chamomile is a fragrant little plant. The leaves have the smell of pineapple and the flowers smell like apples. The herbal tea we make from the flowers is gently fragrant of green apples.
Flowers are like small daisies, composites with white ray flowers and yellow disc flowers in the center. The disc forms a dome in maturing chamomile blooms.
The whole plant seems to appreciate cooler weather. The scorching heat of last summer made the plants grow very slowly. These chamomile plants were still producing flowers in the cool autumn days until frost halted their activity.
Chamomile is native to Europe, but it's now naturalized nearly everywhere else. In the United States it's said to be found growing along old fence rows and in fields. We have it growing near the house because we planted it there. I haven't seen it in the wild, yet, but I'm curious if others have? If so, leave a comment and let us all know!